Implant Supported Dentures
Starbright Dental offers implant supported dentures to their Southport patients.
Implant supported dentures are a cost-effective, advanced technique to replace a whole arch of teeth with an implant-supported denture. This treatment can be used in either the upper or lower jaw, or both, to support immediate-fixed replacement teeth that look, feel and function very similarly to natural teeth.
Implant supported denture treatment is revolutionising the way dentists replace missing teeth
Patients no longer need to worry about clumsy dentures or uncomfortable dental solutions. Implant supported dentures combine comfort and aesthetics while enabling patients to function as normal. Part of what makes this treatment so good is that only 4 implants are needed to secure a denture. These implants are strategically placed in the jaw to provide the best support for the denture.
Suitability for implant supported dentures
Your suitability for implant supported dentures depends on a few things.
One of these variables is whether you have enough bone to support the implants. Studies have shown that in the first year after the loss of a tooth, the bone under the missing tooth can reduce by up to 25% as it is no longer being stimulated by the tooth root and begins to dissolve away.
While this might sound grim, if you have been wearing dentures for some time, it doesn't have to be! With the right practitioner performing the procedure, implant supported dentures can still be suitable for denture wearers who have lost their teeth at some time in the past.
How do I take care of my implant supported dentures?
Taking care of your implant supported dentures is much like taking care of your natural teeth, just because they can't get cavities doesn't mean they don't need to be cleaned. You will still need to brush twice daily and floss once daily with your implants. Taking care of your prosthetic teeth will ensure they last as long as possible.
It is also important to visit your dentist every six months for a check-up and clean.
Dr Eardley Rozario at Starbright Dental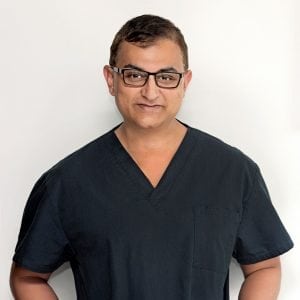 Residing on the Gold Coast, Dr Eardley Rozario is a dual-qualified Dental and Medical Practitioner. He has been practicing as a dentist for 28 years, a doctor for 15years, and has worked in the two fields concurrently since 2003.
Having performed more than 10,000 oral surgical procedures, Dr Rozario is an experienced and capable Dental Surgeon and has been a surgical registrar for many years.
Between 2011 and 2015, Dr Rozario worked in Aboriginal Health and performed more than 300 paediatric dental cases under general anaesthetic on Aboriginal children.
Since the Gold Coast Private Hospital opened its doors in 2016, Dr Rozario has treated over 100 patients under general anaesthetic. His goal is to provide a more affordable, alternative and accessible option for patients who require dental treatment under general anaesthetic.
To find out more about implant supported denture treatment, download our guide or book a consultation today.
Let us help you to smile with confidence!
Book a consultation today!