Transform Your Smile with Porcelain and Composite Veneers on the Gold Coast
If you're looking to transform your smile, veneers are a popular and effective solution that can help you achieve the look you desire. At our Gold Coast dental clinic, we offer two types of veneers: porcelain veneers and composite veneers.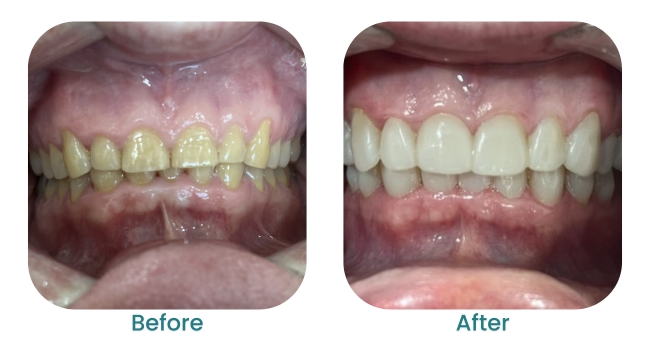 Porcelain Veneers
Porcelain veneers are a popular choice for those seeking a long-lasting, natural-looking smile. These custom-made veneers are crafted from high-quality porcelain and are designed to match the shade and shape of your existing teeth.
Some benefits of porcelain veneers include:
Durability: Porcelain veneers are highly durable and can last up to 10-15 years with proper care.
Natural appearance: Porcelain mimics the translucency and reflective properties of natural teeth, creating a beautiful and natural-looking smile.
Stain resistance: Porcelain veneers are highly resistant to staining, making them a great choice for those who want to maintain a bright, white smile.
Composite Veneers
Composite veneers are a more affordable and less invasive option for those looking to improve the appearance of their smile. These veneers are made from a composite resin material that is applied directly to the teeth.
Some benefits of composite veneers include:
Affordability: Composite veneers are a more cost-effective option compared to porcelain veneers.
Easy application: Composite veneers can be applied in a single visit, making them a quick and convenient option.
Reversibility: Unlike porcelain veneers, composite veneers can be easily removed and replaced if necessary.
Understanding the Veneers Fitting Process
If you're looking to improve your smile, veneers are a great option. At our Gold Coast dental clinic, we offer both porcelain and composite veneers. But how exactly are veneers fitted?
Initial Consultation
The first step in the veneer fitting process is an initial consultation with one of our experienced dentists. During this consultation, we'll discuss your goals and expectations, examine your teeth and gums, and take X-rays and impressions to create a custom treatment plan for you.
Preparing Your Teeth
Before fitting the veneers, your teeth will need to be prepared. This involves removing a thin layer of enamel from the surface of the teeth to make room for the veneers. This is a painless process that is done under local anesthesia.
Fitting the Veneers
Once your teeth are prepared, we'll create a mold of your teeth and send it to a dental lab where your custom veneers will be made. This process can take a few weeks, so we may provide you with temporary veneers in the meantime.
When your veneers are ready, we'll check their fit and color to ensure they match the shade and shape of your natural teeth. If necessary, we can make adjustments to the veneers before bonding them to your teeth using a special adhesive.
Aftercare and Maintenance of Veneers
After your veneers are fitted, it's important to take care of them properly to ensure their longevity. This includes brushing and flossing regularly, avoiding hard and sticky foods, and visiting our Gold Coast dental clinic for regular checkups and cleanings.
Book a Veneer Consultation Today
If you're considering veneers, our experienced dental team can guide you through the process and help you achieve the smile of your dreams. The consultation fee will be deducted from your treatment cost should you proceed.
Contact us today to schedule a consultation and take the first step towards a more confident smile.
Let us help you to have the smile you've always wanted!
Book an appointment today!

 The Starbright Dental clinic offers a fresh, vibrant and welcoming atmosphere, combined with the very best in modern dental equipment.